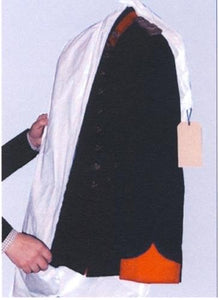 Tyvek® fabric is renowned throughout the world for providing first class protection from dust, light and insect infestation.  In contrast, plastic bags attract dust, prevent fibres from breathing and create a perfect environment for mould or insect attack.
A long zip allows easy packing, reducing handling to a minimum and a special, tight fastening, tubular closure at the top permits a hanger without the risk of dust penetration.
Gusseted covers are available in four sizes up to 178 cm.  (For less bulky garments, please refer to the range of Tyvek Standard Garment Covers).
This Tyvek® is 1422A and the full specification can be found on the Dupont website.