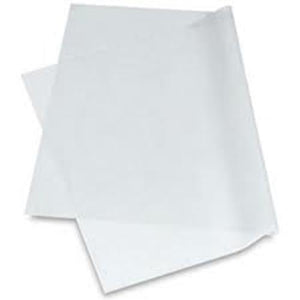 Use confidently for stuffing, interleaving or storing costume items, these large white, acid-free and unbuffered tissue sheets will help to protect textiles against creasing.  For textiles intended for longer-term storage, consideration should be given to their being placed in one of our Acid-Free Storage Boxes after wrapping in tissue.
N.B.  Although totally acid-free, this tissue will not act as a barrier against acid staining from an acidic storage environment.  Please contact us if you require advice on storage.
Our tissue is 'unbuffered' as this means it does not contain any calcium carbonate (often added to tissue).  Calcium carbonate could discolour some textiles and could affect metallic thread.
Our tissue sheets are 750 x 500 mm (29½" x 19½") and are available in packs of 20 sheets.  Both packs contain instructions on how to pack costume items.