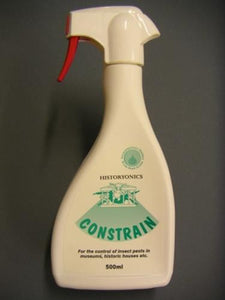 ONLY FOR DELIVERY ON THE UK MAINLAND

Constrain Spray is a very effective, ready to use, pH neutral, water-based insecticide, specially developed for the effective control of a wide range of insect pests (including wood borers, clothes moths, carpet beetles, silverfish, etc) that attack valuable materials and artefacts.
Constrain does not give off any toxic fumes as it is water based, and the active ingredient - cypermethrin - is stable and so does not vapourise into the air.  This is why it is odourless and cleared for domestic use.  Also, when dry, the cypermethrin attaches itself tightly to what it has been sprayed onto, and so does not easily brush off into a dust or rub off on people's hands or feet.
Although Constrain has been conservation tested on a wide range of substrates including paper, textiles, woods and metals, it is always advisable to test a small inconspicuous area first, before treatment.  We do not recommend direct spraying onto antique, or other textiles but suggest that the inside of storage areas, such as wardrobes, chests and drawers, are sprayed before textiles are stored.  If sprayed lightly and evenly from 20-30 cm (9-12") away, we suggest that the linings of upholstered furniture can be sprayed as can the linings of larger hanging textiles, ensuring that the spray does not come into direct contact with the textile itself.  Where there are no carpets, or carpets can be covered, spraying skirting boards can prove very effective.
Treatment should last for up to 6 months and the product is available in easy to apply 1 litre trigger sprays and 5 litre refills.
Constrain was developed in the Conservation Department at the National Museums & Galleries of Wales.  It is registered under the Pesticides Regulations Act (1986) for domestic use and is totally biodegradable.