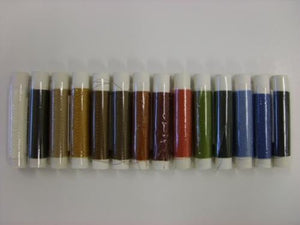 Finest polyester thread in 14 shades.  A wider range of threads is generally unnecessary as the semi-translucence of the thread means it adapts well to the shade of the ground fabric.
It can be used for both hand and machine sewing (although you may need to adjust the machine's tension).  Totally unlike nylon, it is soft but strong, allowing strength in such a fine thread.
Ideal for fine embroidery, gold work, box making, patchwork and miniatures.  Has even been used for the rigging on ships in bottles!
Available on single reels of 100 metres.